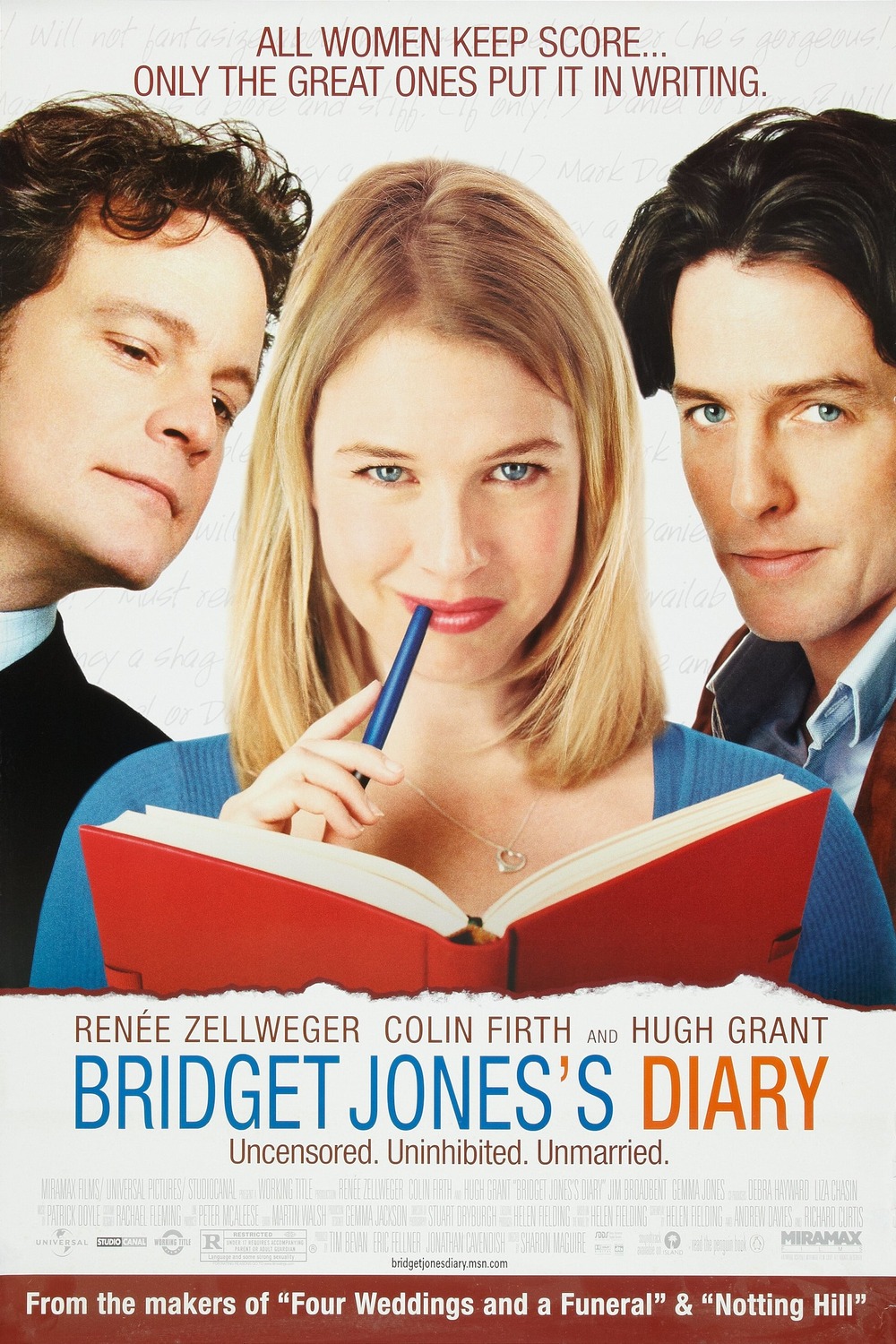 Movie Poster
Bridget Jones's Diary
Budget: $26m; UK box office:£ 41m
SUMMARY/IDEAS I MIGHT USE:
main character starting with a monologue

Idents/Titles:
Working Title - audio bridge - flute plays -

non-diegetic

sound

first title - main character

In order of apperance:
Renee Zellweger
Collin Firth
Hugh Grant
Jim Broadbent
Gemma Jones
Casting by Michelle Guish
Line Producer Peter McAlleese
Music Supervisor Nick Angel
Co Producers Debra Hayward
Lisa Chasin
Same style of writing used 'girly handwriting'
Original Score by Patrick Doyle
Costume Designer Rachel Fleming
Production Designer Gemma Jackson
Editor Martin Walsh
Director of Photography Stuart Dryburgh
Excecutive Producer Helen Fielding
Based on the Novel by Helen Fielding
Screenplay by Helen Fielding
Andrew Davies
Richard Curtis
Produced by Tim Bevan
Eric Fellner
Jonathan Cavendish
Directed by Sharon Maguire
Synopsis:
starting the diary
Bridget Jones is a Rom-Com about an unattached 30-something who realizes she's got to change her life. After a New Year's Eve, she vows that this new year is the one in which she'll get her act together. She'll lose weight, she'll smoke and drink less, and she'll document it all in a diary.
Sound:
Elements of the Sound Mix:



womans voices starts - middle aged - narrator - sarcasm and slightly fed up

tone

dialogue continues throughout opening between herself narrating with the occasional dialogue from mother christmas music starts - upbeat jolly tunes - non diegetic sound

then fades and becomes

diegetic

sound door closes - diegetic sound older woman starts to talk to middle aged woman - her mum background music and inaudiable chatter
Analysis:


Opening Scene:
opens on MS of Bridget as she walks past in the snow - blonde middle aged naive woman quite shy - lost - no purpose?
binary opposites
man - woman - bridget and mr darcy
urban - hometown - london - countryside - parents live - rurual
dominant - mum bossing her around trying to find her a boyfriend - sparking tension between her and mr darcy
submissibe - bridget - on her own no one to sympathise with but her dad - actually likes mr darcy and isnt like all the others her mum usually picks out for her or chooses
Mise-en-scene:
Opening scene - cold wintery snowy weather - pathetic fallacy - miserable - fed up
Bridget - Thick coat and scarf on - not glamourous - no make up and hair is not perfect - made to wear plumper clothes to make her look more overweight.
mum in shot - typical wear of a woman of upper middle class - clothing worn is usually worn by a woman of her age - accent is southern english showing class and this being stereotypical of an english represented in a Rom-Com - the dutch angle used at the beginning signifies alienation and intimidation.
Bridget 2nd Scene - wearing pjs - red - room is a mess - watching tv - reflecting what she is thinking and feeling within the programmes used - drinking wine A LOT -
After drinking the wine diegetic sound turns

non diegetic

as she mouths the words to the song
Representations:
Daniel Cleaver
Mark Darcy - Important job - a lot of money - dresses according to the job - suit, tie, briefcase etc - shows the townhouse as a sign of his wealth.
Daniel Cleaver -
Important job - a lot of money - dresses not according to the job - suit, but no tie and top button undone creating a more relaxed approach - shows the townhouse as a sign of his wealth.
flirtatious remarks from daniel with bridgets bad fashion sense
Bridget Jones - Single - overweight - good job - woman being more dominant - no fashion sense as such - big knickers - and doesn't dress according to her job with low tops and short skirts.
Soundtrack:
All by myself by celine dion - relates back to the monologue that she is going to be 'living by her self and been eaten when dead by alsatians' if she doesnt do something about it. The song is also sad so reinforces the narrative.